Officials say panhandling is a growing problem in Northern Virginia
August 18, 2023
By Katie Lusso
FAIRFAX COUNTY, Va. — A "What should Northern Virginia be doing about panhandling" regional town hall was held virtually Thursday night.
It was organized by Prince William County Supervisor Jeannine Lawson and Fairfax County Supervisor Pat Herrity. The two told WUSA9 they often discuss issues and concerns that they receive from their communities and decided they were both receiving a large amount of complaints about one topic in particular; panhandling.
For 90 minutes, they shared where things currently stand in both of their counties. According to Fairfax County, these are the laws when it comes to panhandling:
Asking for money is a protected act under the First Amendment.
Asking for money in public areas, including roadway medians, is not a violation of law.
The county monitors legal developments related to panhandling.
Currently, Loudoun County has an ordinance in place regarding panhandling.
"The panhandling ordinance for us it addresses interfering with traffic," said Major Greg Ahlemann with the Loudoun County Sheriff's Office during the meeting.
Both Supervisor Herrity and Supervisor Lawson say they like to have a similar ordinance in their counties.
During the town hall they heard from dozens of people over the phone, on social media and in emails.
"A panhandler started spitting on my car," said one caller.
Someone else wrote "They're on every single street corner."
Another person called in and said, "They're not even panhandling anymore at times, they're just nuisances at times."
Both supervisors called it a major issue for their constituents. Supervisor Lawson shared during the town hall that there are three types of panhandling situations, people who truly need the money and are facing economic challenges, people who are feeding their addictions through it and organized panhandlers.
She shared that Prince William County received more than 500 calls for service last year regarding panhandling concerns. According to Lawson, they're on track to receive an even higher number by the end of this year.
"There's no absolutes in panhandling. It ranges from people in need to people who are out there because they want to be. It's by choice. The only absolute to me is that it's a public safety issue. It's dangerous for our residents who are panhandling and our residents in the roadways because one of them is going to get hurt seriously," said Supervisor Herrity.
WUSA9 spoke to a man named Mark who was standing along Leesburg Pike Thursday afternoon.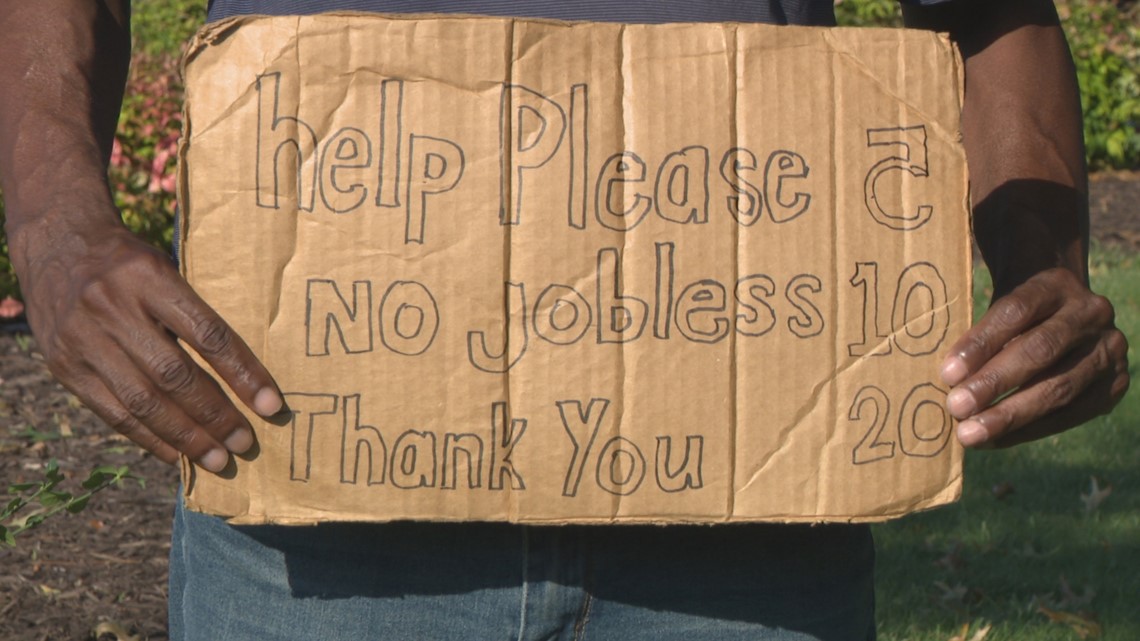 Credit: WUSA9
"My sign says help please, jobless, I guess it represents the reality of me today," he told WUSA9.
He says the last few years have been tough. "In 2018 my taxi cab was run into," said Mark.
He says he lost his cab because of that crash, and eventually his job.
"They wouldn't rent me a cab to go back to work, so I've been out here panhandling," he said Thursday night.
He says it can be stressful and hurtful at times.
"People turn you down and say things that hurt you," he said. "It's stressful for me because it's never enough. It's not like a regular paycheck."
He told WUSA9 he does have a place to stay and for that he is grateful. "I live with my family. So as far as having shelter and something to eat it's good, but right now I can't go back to work," he said.
Panhandling he shared, felt like his only option.
"My money was running low. No one is gonna take care of me. You can go on welfare but they only gonna give you $100 on a food card. $100 on a food card when you gotta pay the rest of the bill, water, gas, electric that's not gonna cut it," said Mark.
He shared that he understands the concerns people have. "It's good for them to be cautious because I've heard some people out here, they may reach in the car and take a purse and take off running," he said.
As for him, he keeps his head low and hopes someone will offer some spare cash. He says he doesn't harass drivers and understands if they don't want to roll down their window.
"If you don't want to give, you don't have to," he said.
But asked people to have compassion. "They may get tired of seeing people thinking it's simple to get another job. Sometimes it is, sometimes it isn't," he said.
As for the future of panhandling in Fairfax and Prince William Counties, both supervisors told WUSA9 they plan to present similar ordinances to the one Loudoun County has in place, at their board meetings in September. They also hope to get the state involved in creating a broader way to address it.
As for what you can do, Fairfax County recommends the following:
One of the programs highlighted during the townhall, was Operation Stream Shield. According to their website they provide part-time, temporary work experience to guests of the Eleanor U. Kennedy Community Shelter, Bailey's Crossroads Community Shelter and The Lamb Center to help improve the water quality of local streams.